If you are in the HVAC industry, you know that creating business proposals can be a time-consuming and tedious task. The process of designing and customizing a proposal to meet your customer's needs can be overwhelming, especially when you have to do it repeatedly for every project. This is where HVAC sales proposal software comes in. The software includes features that can save you time and resources while creating professional-looking proposals tailored to your industry.
---
Grow Your Business By Partnering With Payzer
---
Let's explore the top five benefits of implementing HVAC proposal software, from saving time to improving profit margins, and how it can help your HVAC business thrive in the industry.
Save Time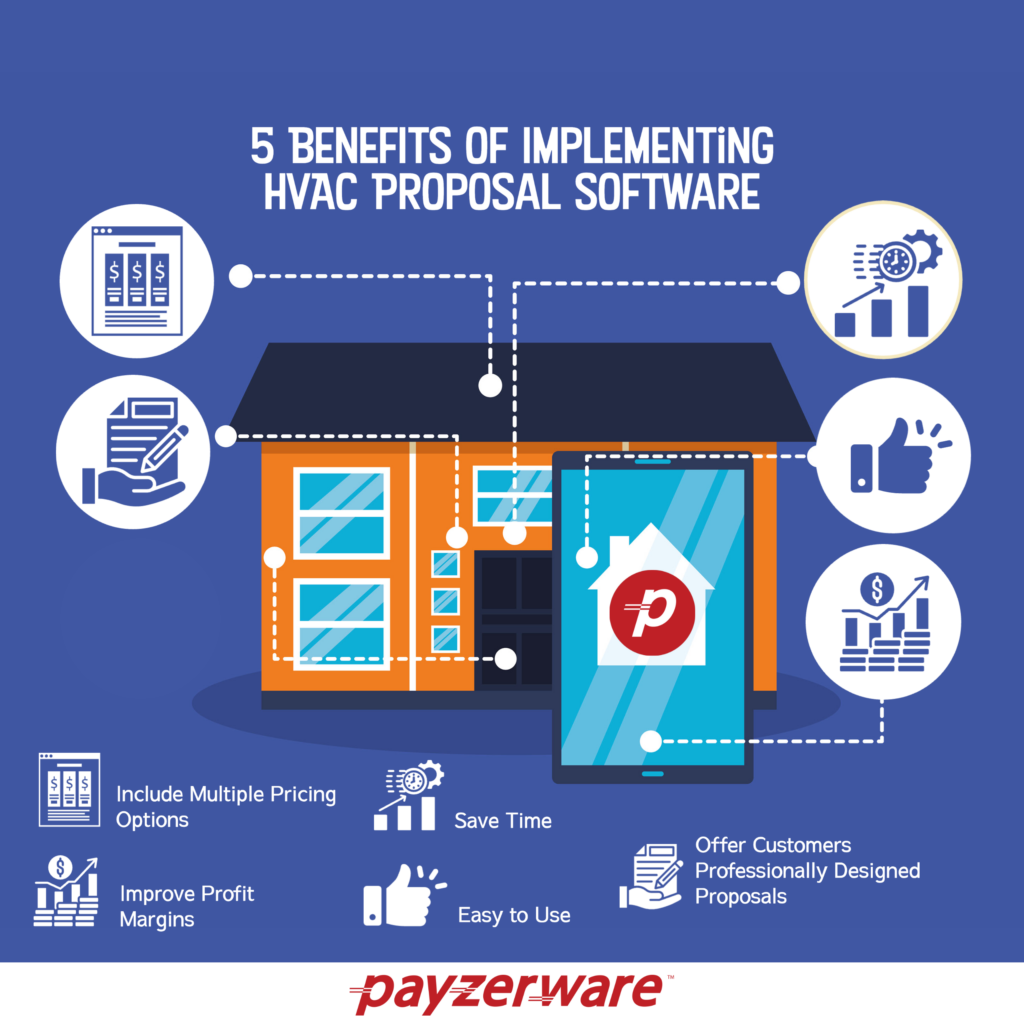 With HVAC proposal software, you can save time and offer your customers an even better experience. No more spending hours creating sales documents – simply use pre-designed HVAC proposal templates and quickly add your pricing options and service details. HVAC Proposal software automates the creation of proposals and sales documents, freeing up your sales team to focus on selling and closing deals. Using software allows your HVAC company to become more productive and efficient without sacrificing quality or customer satisfaction.
Offer Customers Professionally Designed Proposals
Impress your customers with professionally designed proposals using top-of-the-line HVAC proposal software! Use pre-designed templates tailored specifically to the HVAC industry, ensuring your proposals look polished and impressive. Providing your customers with professional-looking proposals will create a great first impression and enhance their overall experience with your business. Not only will this increase the likelihood of closing deals, but it will also help build trust and confidence in your brand. Let HVAC proposal software elevate your business to the next level!
Pricing Options
HVAC proposal software can provide pricing options for HVAC services, which can be customized based on the customer's needs. This can make the sales process smoother, as your sales team can provide pricing options specific to the customer's needs. The software can provide multiple price points to customers, which can be customized based on their needs. You can offer your customers different price points, making it easier for them to choose the services that fit their budget. This can increase your profit margins by offering more options for customers to choose from, making it easier for you to close deals. This can help you close more deals, as customers are more likely to select a pricing option that suits their needs.
Improve Profit Margins
HVAC proposal software can help HVAC businesses improve their profit margins by reducing the time and resources required to create proposals. With the software, your HVAC company can reduce the costs of making proposals, which can help to increase your profit margins.
If you're looking to improve your profit margins, implementing HVAC proposal software could be the perfect solution for your HVAC company! By reducing the time and resources required to create proposals, you can save on costs and increase your profit margins.
Easy to Use
One of the best things about HVAC proposal software is its easy use! Your sales team can be something other than tech wizards to navigate it – anyone can pick it up and start using it immediately. The software is designed with user-friendliness, so you won't have to spend hours figuring out how to use it. With HVAC proposal software, you can easily streamline your sales process and start closing deals!
In today's competitive market, taking advantage of every opportunity to improve your business and stay ahead of the competition is important. Implementing HVAC proposal software can be a game-changer for your HVAC company, helping you to save time, streamline your sales process, offer professionally designed proposals, and increase your profit margins. With the software's ease of use and customizability, you can quickly customize pricing options and service details to meet your customers' needs. By leveraging the benefits of HVAC proposal software, you can offer an exceptional customer experience while growing your business. So why wait? Schedule a Payzerware demo today and see how you can take your HVAC sales process to the next level!
Grow Your Business By Partnering With Payzer
Frequently Asked Questions About HVAC Proposal Software
What is the best software for HVAC?
Payzerware is one of the leading software options for HVAC contractors. It offers a suite of tools to streamline business operations, including job scheduling, dispatching, invoicing, and payment processing. The software also provides advanced features like inventory management and real-time job costing.
How do you write an HVAC proposal?
To write an effective HVAC proposal, you should first gather all the necessary information about the job, including the scope of work, timeline, and budget. Then, you should outline your proposed solution, including equipment recommendations, labor costs, and any warranties or guarantees. Be sure to highlight the benefits of your proposal, such as energy efficiency or cost savings. Finally, include a detailed breakdown of the costs and a clear timeline for completion. Your proposal should be clear, concise, and professional.
Why use proposal software?
Proposal software can streamline the proposal writing process and make it more efficient. It provides templates and tools for creating professional-looking proposals, and it can automate tasks like document assembly and sending follow-up reminders. Proposal software can also help track proposal metrics, such as open and response rates, and it can provide insights into what is working and what needs improvement. Overall, using proposal software can save time and improve the quality of proposals.
What is HVAC software?
HVAC software refers to computer programs designed to help HVAC contractors manage their businesses. This type of software can include tools for scheduling appointments, dispatching technicians, tracking inventory, invoicing, and payment processing. Some HVAC software also offers features like job costing and project management. HVAC software aims to help contractors streamline their operations, reduce administrative tasks, and increase productivity!