Running a successful plumbing company requires more than just technical expertise. Effective management is key to growth, and that's where plumbing management software comes in. With the right software solution, plumbing contractors can expand their reach. Expanding your reach with plumbing management software involves utilizing its features and capabilities to streamline your business operations, improve customer service, and increase revenue. Plumbing management software can help by leveraging the features and capabilities to increase efficiency and revenue and can lead to increased success for your plumbing business.
As a plumbing company owner, you understand the importance of providing excellent customer service and staying on top of every aspect of your business. From managing work orders to dispatching plumbers and processing payments, there are many tasks to juggle to keep your business running smoothly. This is where plumbing management software, such as Payzerware, can make a significant impact.
What is plumbing business software?
Simply put, it is a software solution designed specifically for plumbing contractors to manage their daily business operations efficiently. Plumbing software offers a range of benefits, from improving communication between office staff and field technicians to integrating with QuickBooks for seamless accounting and bookkeeping. It includes features such as work orders, scheduling, invoicing, and dispatching, all of which can be accessed through a centralized platform. Plumbing management software also integrates with other tools, such as QuickBooks, to simplify accounting and financial reporting.
How to Expand Your Reach with Plumbing Management Software
Plumbing management software can be a valuable tool for expanding your reach as a plumbing business. Overall, the software can help you expand your reach by making it easier to manage your business, attract new customers, and provide better service to your existing customers. Here are some ways you can use plumbing software to expand your reach: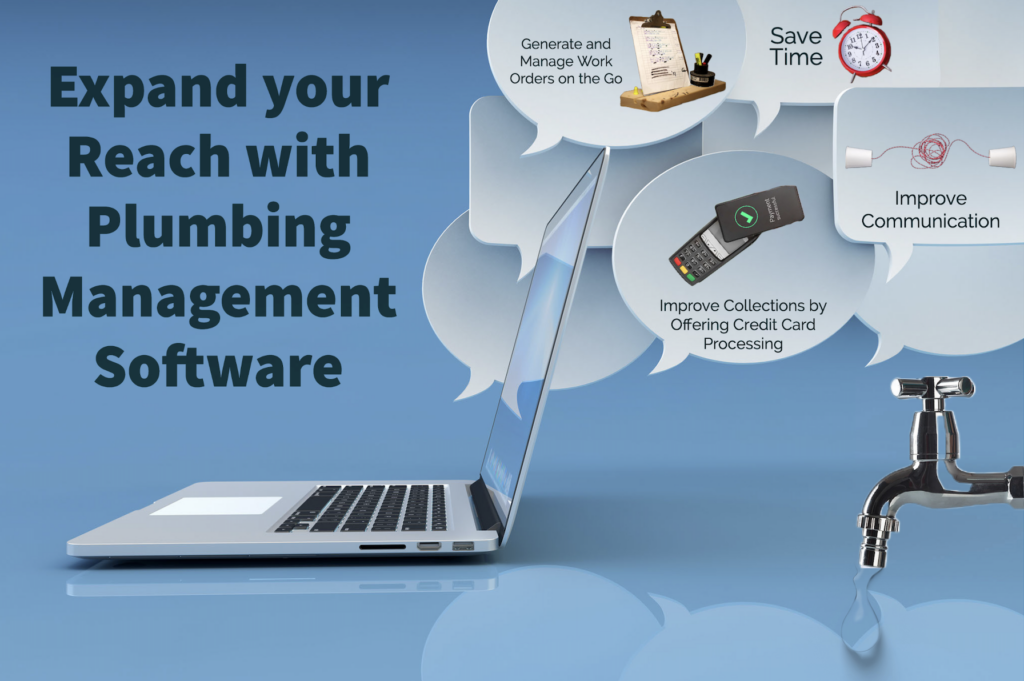 Save Time
One of the most significant advantages of plumbing service software is that it saves time. With features like automated scheduling and dispatching, real-time job tracking, and the ability to generate and manage work orders on the go, plumbing management software eliminates the need for manual processes and makes everything streamlined and efficient. This means you can focus on running a successful plumbing company. By automating routine tasks and providing real-time updates, the software helps plumbing companies save time and improve efficiency. It can especially help speed up the scheduling and dispatching process, providing instant notifications to your technicians when a job has been added, or updated on their calendar. Back-and-forth communication between the office and the field is streamlined, and payments can be taken in the field, eliminating the need to drive checks to the bank! It will free up your time and enable you to grow your business and serve your customers better!
Offer Credit Card Processing
Another key benefit of plumbing dispatch and management software is that it allows credit card processing, allowing customers to make payments directly. This means that your customers can conveniently make payments directly, making their experience with your business even better. Not only does this feature improve customer satisfaction, but it can also help increase revenue and cash flow for your small business. By offering credit card processing, you're making it easier for customers to pay quickly and securely.
Improve Communication
Effective communication is key to success in any business, and plumbing is no exception. With the help of plumbing software, communication between your office staff and field technicians becomes a breeze. Real-time updates and notifications ensure that everyone is on the same page and any issues are addressed promptly. This not only improves your ability to provide top-notch service but also leads to satisfied customers who are more likely to recommend your services to others. Plus, with all team members having access to the same information, and communicating through the platform, then communication becomes seamless, and the risk of misunderstandings is greatly reduced.
Generate and manage work orders on the go
With plumbing service software, creating and managing work orders has never been easier. Your team can now access job details, customer information, and other important data from their mobile devices, no matter where they are. This enables your field technicians to complete jobs more efficiently and effectively, resulting in happier customers and a more streamlined workflow for your business. So whether you're in the office or on the go, managing work orders is a breeze with plumbing service software!
Integrate with QuickBooks
Keep your accounting and bookkeeping hassle-free with QuickBooks integration! This feature not only eliminates the need for manual data entry but also streamlines your financial records. With accurate and up-to-date financial data, you can focus on what really matters – growing your business! Plus, the integration makes it easy to access financial records whenever you need them, giving you more time to focus on providing excellent service to your customers. Say goodbye to complicated accounting processes and hello to seamless financial management with QuickBooks integration.
Enhances Customer Service
Plumbing management software can revolutionize your customer service experience and boost customer satisfaction. By automating and streamlining your customer management process, you can devote more time to delivering high-quality service and nurturing long-lasting relationships with your clients. The user-friendly interface of plumbing management software simplifies on-site payment processing, eliminating any friction in the payment process and providing a seamless and stress-free experience for your customers. Furthermore, the mobile app enables you to manage your business while on the go, allowing you to monitor job progress, handle payments, and interact with clients from any location and at any time. With all your crucial business information available at your fingertips, you can manage your schedule, keep tabs on job progress, and access customer details, all in one convenient location.
Real-time job updates keep your clients in the loop at every stage of the project, fostering trust and instilling confidence, which is essential for building strong client relationships. Quick billing is another benefit of using plumbing software, which minimizes payment processing time, offering fast and easy transactions that enhance the customer experience. Plumbing software also provides exceptional customer management tools that enable you to monitor your client's contact information, preferences, and history, giving you the insights needed to personalize your services and exceed their expectations. By providing top-notch customer service, you can cultivate customer loyalty and generate referrals, helping to build a robust and sustainable business.
Why Partner with Payzer
Payzerware is the comprehensive software solution you need to manage your operations effectively. With Payzerware, you'll benefit from improved communication, enhanced customer service, and time-savings, ensuring that your business thrives in today's competitive market… So why wait? Click here to schedule a Payzerware demo today!
Plumbing management software such as Payzerware can be a game-changer for plumbing contractors looking to expand their reach and take their business to the next level. By streamlining operations, improving communication, and enhancing customer service, plumbing management software can help you increase customer satisfaction and generate positive word-of-mouth referrals. With automated scheduling and dispatching, you can take on more jobs and serve more clients without sacrificing quality. Plus, with the ability to process credit card payments, you can offer more convenient payment options and attract new customers. By integrating with QuickBooks, you can easily manage your finances and make informed business decisions. With a mobile app, you can stay connected with your team and customers on the go. By utilizing plumbing management software, you can expand your reach, attract new clients, and grow your business in today's competitive market!