Field Service Management platform now integrated with world's leading flat rate database.
Charlotte, NC – Payzer announced today that Payzerware, the All-In-One-Management Tool for specialty trade contractors, is now seamlessly integrated with Profit Rhino powered by Callahan Roach, the leading flat-rate pricing software for HVAC and Plumbing contractors.
"Flat rate pricing improves technician efficiency, increases customer satisfaction, and enhances contractor profitability," said Jeremy Lowe, Vice President, Content & Training for Profit Rhino. "Integrating Profit Rhino with Payzerware is a big win for contractors."
Payzerware is a powerful, easy-to-use software that helps specialty trade contractors run their business. Payzerware's features include: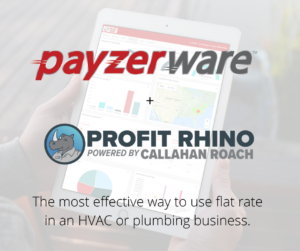 Inbound customer call management

Technician scheduling and dispatch

Appointments and reminders for homeowners

Maintenance agreements management

Effective sales proposals and paperless invoices

Payments, including cards, checks & electronic payments

Paperless financing to qualified homeowners

Customer, invoice, and payments sync with Quickbooks desktop
Now, with Profit Rhino's flat rate price book data, contractors can use Payzerware to increase their profitability and provide homeowners with the upfront pricing they're looking for. Profit Rhino has led the flat rate pricing industry for decades and their content is widely considered the best in the marketplace, covering 90% of the most common repairs.
"Payzerware is growing rapidly because we continue to meet the needs of the contractor," said Joe Giordano, CEO of Payzer. "Payzerware is a state-of-the-art cloud mobile platform that helps contractors solve everyday problems. Having Profit Rhino's flat rate data in our price book makes Payzerware even stronger."
Payzer is based in Charlotte, North Carolina, and serves thousands of contractors throughout the U.S. who trust Payzer to provide software applications that help them run their business.
Interested contractors can request a demonstration of Payzerware and Profit Rhino here or by calling 1-866-488-6525.
About Payzer
Payzer is a fast-growing software company based in Charlotte, North Carolina. The company provides software products that help contractors grow and manage their businesses. Payzerware, the company's End-to-End Field Service Management system, enables complete business management, including schedule/dispatch, the simplest way to create proposals and invoices on a mobile app, maintenance agreements, fully integrated payments, and more. For more information, visit www.payzer.com.
About Profit Rhino
Profit Rhino powered by Callahan Roach brings 30 years of industry knowledge to their powerful flat rate pricing products for HVAC, plumbing, and electrical contractors. Profit Rhino's flat rate content gives contractors the power to grow their business by providing them with tools to set profitable pricing while keeping homeowners happy with upfront pricing. For more information, visit www.ProfitRhino.com.