Summer is here. For contractors, that means long days and even longer nights of servicing homeowners. Emergency calls are prevalent and speed of service is dire in order to put anxious homeowners at ease. Now is the time to crush revenue goals while servicing homeowners.
Here are 3 tips to earn more revenue this summer and increase your sales proposal close rate.
Listen to the homeowner
Homeowners are relying on your expertise during the diagnosis to point them in the right direction. They need your services. Here are some ways to build trust with the homeowner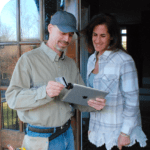 Build rapport with open-ended questions
Show empathy for the homeowner as they open up about their current situation
Focus on solving their current problems
Document their problems
The price of comfort can further stress out an anxious homeowner. An AC decision is a significant decision for a homeowner. They want to make sure they can trust a contractor to provide ease of mind with their home comfort. Listening is the foundation of building trust in a relationship.
Offer Multiple Options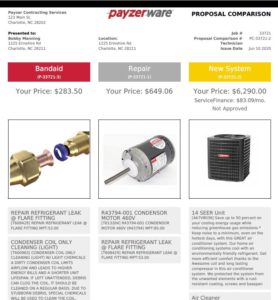 The modern-day buyer wants options to steer their buying decision.
Offer a "band-aid" fix for their current system
Pair that band-aid solution with new installs
Have detailed product descriptions to highlight the key benefits of every option
Add in additional visuals to further reinforce the features of every option
Strong product knowledge will help put that anxious homeowner at ease when helping direct them in the right direction. Multiple options will give the homeowner power of making the right solution for them.
Offer Financing
Homeowners need your services when their AC system isn't working in the summer. Here's what financing will allow you to accomplish
Low monthly payments that fit into homeowners budgets
Recommendations for maintenance plans and increased efficiency without breaking the bank
No prepayment penalties for the homeowners regardless of the terms of the loan
0% options that will not accrue interest for homeowners
Pairing each option with financing will help you overcome the backlash of a stressed-out buyer.
These are just a few ways to earn more revenue this summer and set yourself up for future success.
Payzerware can help contractors provide professional sales presentation proposals with multiple options and integrated financing. Give us a call or click here to learn more.