Simplify Operations
Payzerware is built to solve everyday challenges in order to help you run and grow your business.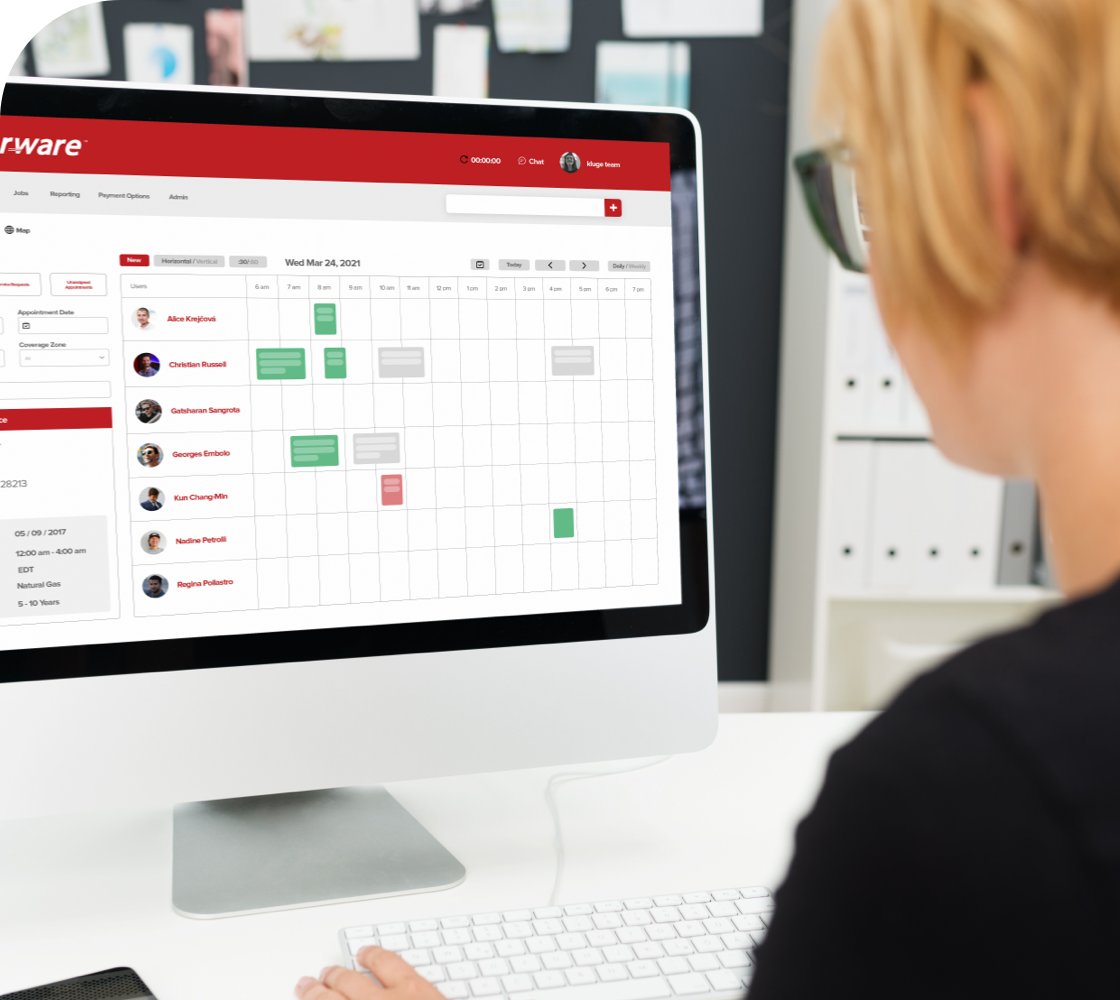 On average Payzerware customers increase their jobs per week by
68%
Save Time With Schedule and Dispatch
Our workflow is built with the customer record at the center, when a potential service call comes in you are able to take in all the information about the customer and schedule the job using the drag-and-drop scheduler.
Assign the job based on custom dispatch group and coverage zones, creating an optimized route for each technician and customer.
Technicians will be notified of the new appointment through the app and can easily navigate to the job, saving time in between service calls allowing them to get to more jobs each day.
View Demo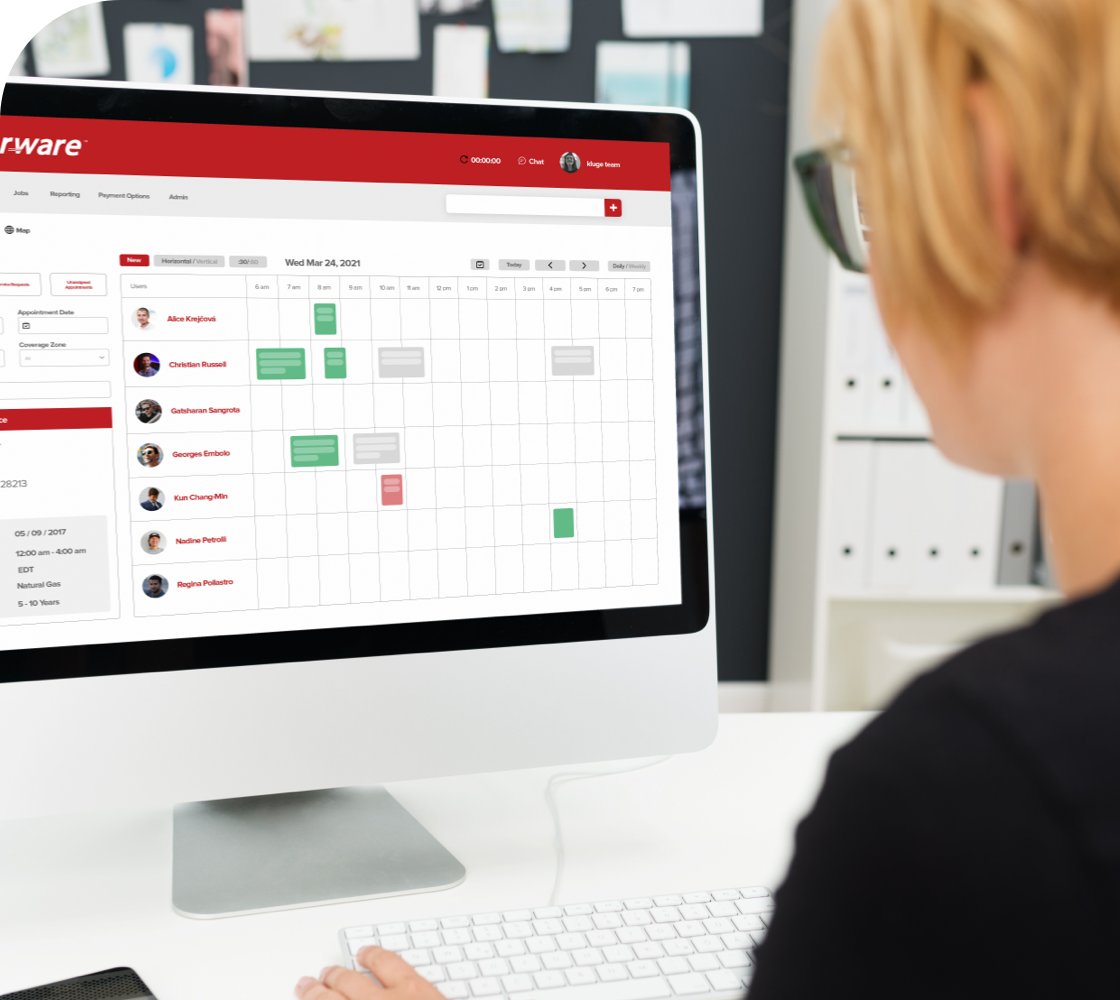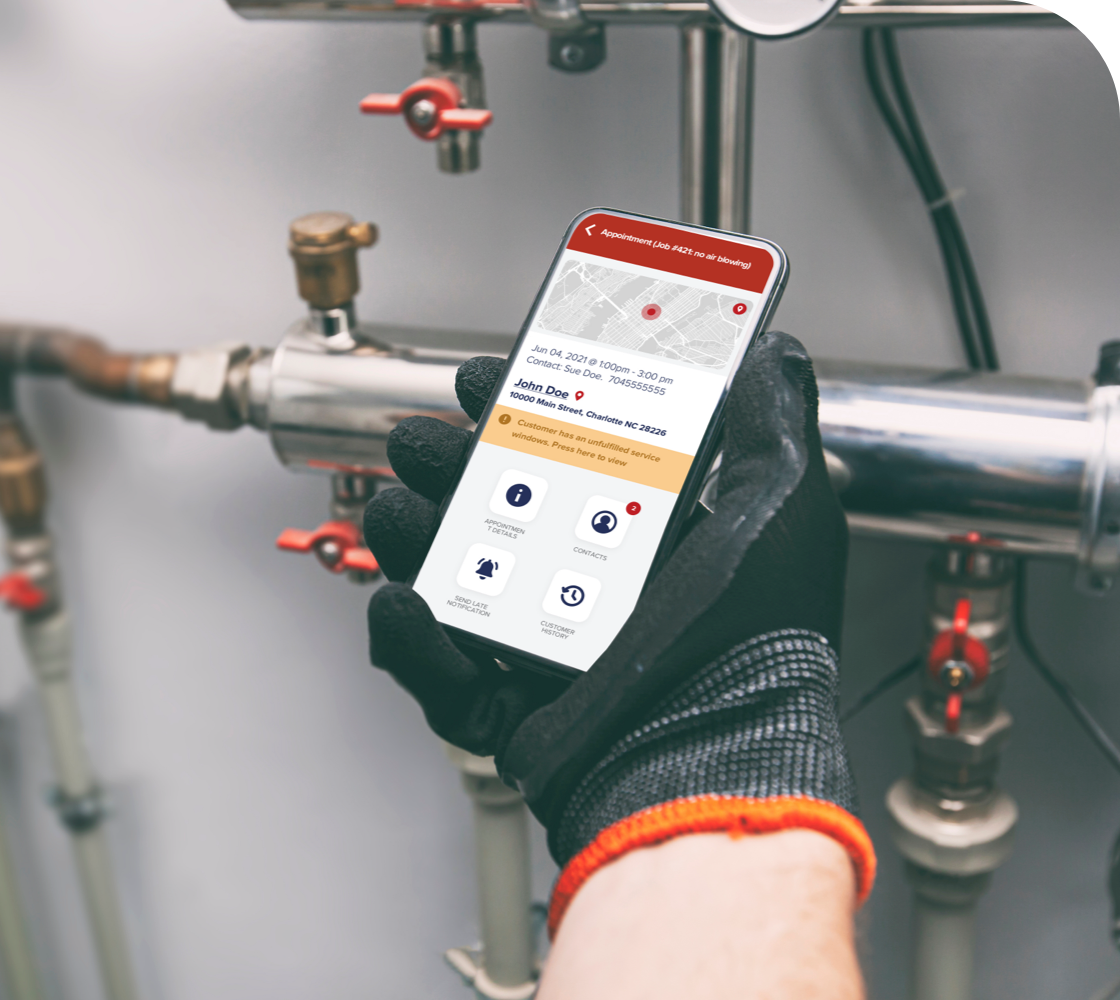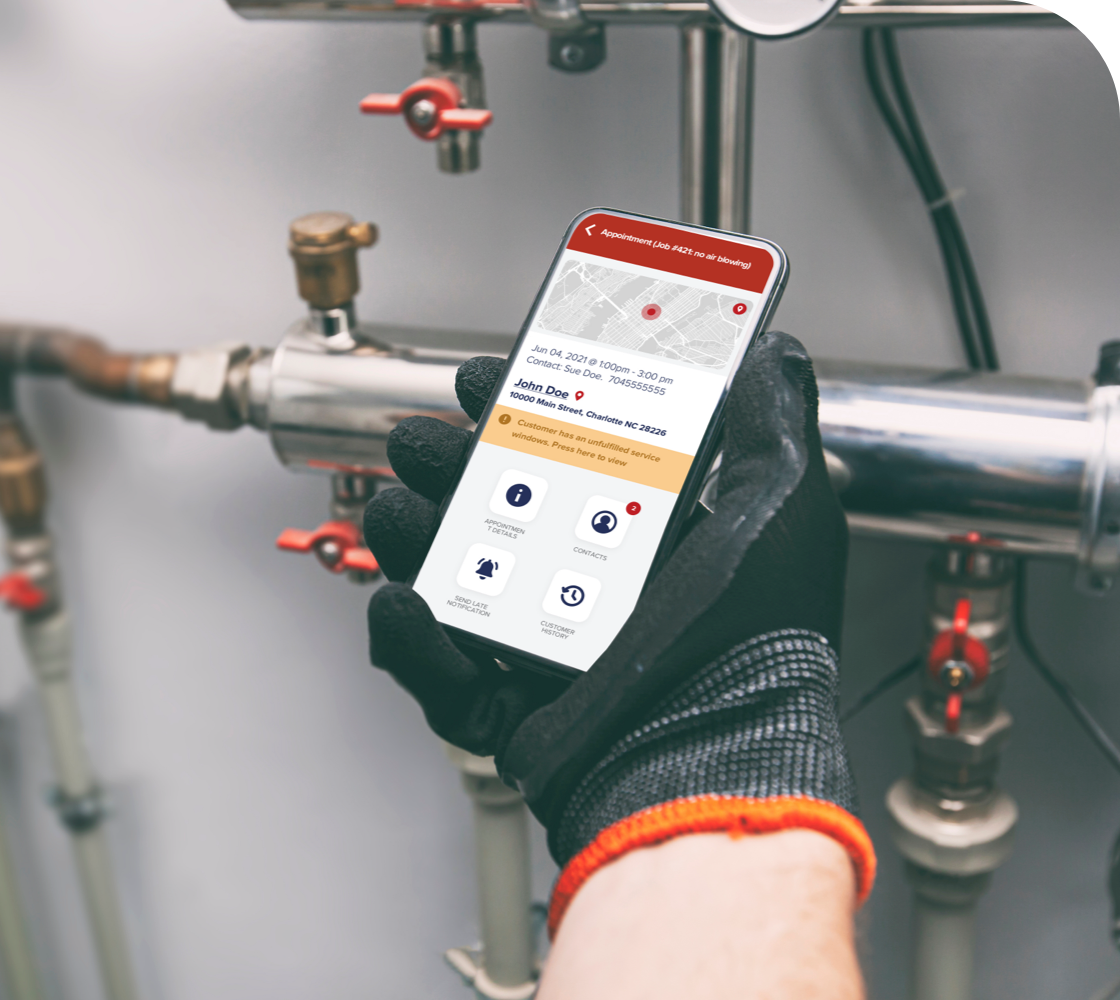 "In Payzerware, everything you need to see on a customer is right in front of you – history, equipment, appointments, invoices."  Vaughn Guidry, Guidry's Air Conditioning & Refrigeration Service
Deliver on time, well informed customer service
Navigate to the job directly from the app and send an automated 'on my way' text message to keep the customer informed. Running late? There are notifications for that too.
Upon arrival, technicians are able to see a complete history of the customer – installed equipment, job notes from previous visits and photos to execute the job as efficiently as possible.
In order to complete the job, order parts and materials on the spot with mobile purchase orders and communicate with the back office as needed through the app.
View Demo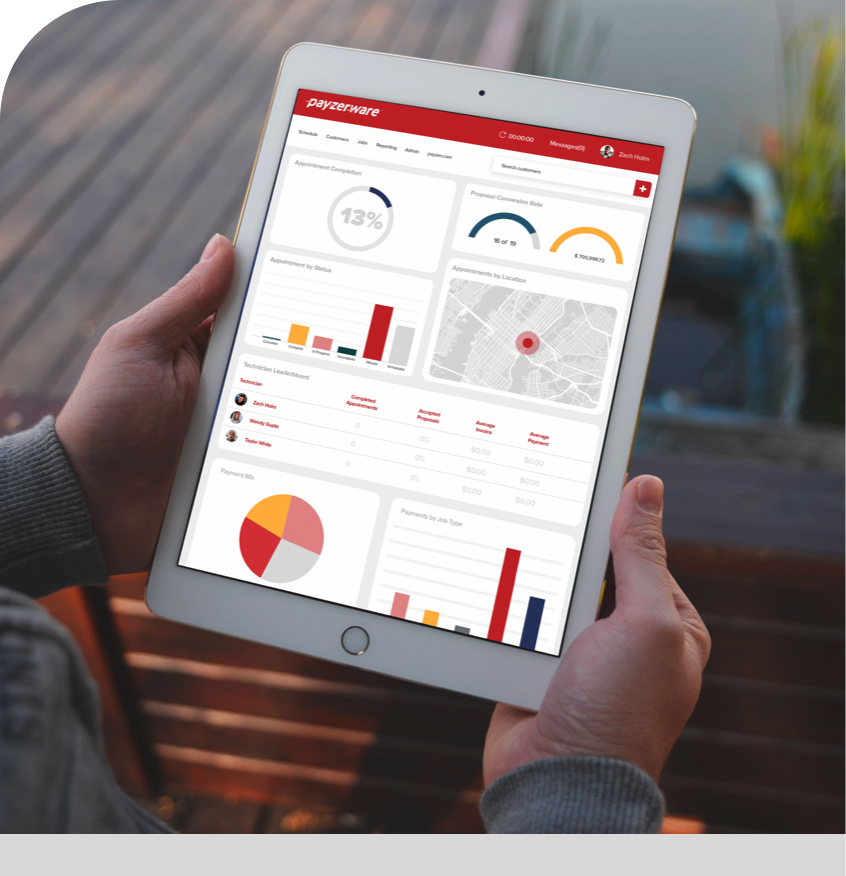 "I cannot say enough about Payzerware and the value it brings to our company. The program is easy to use and also keeps track of the smallest details." Lauren Mitchell, Above & Beyond Services

Access Full Management Reporting
Payzerware comes equipped with multiple reports that will save you time in assessing productivity, time tracking, performance, orders, and more, gaining insight into areas of opportunity to improve and grow.
Need to see part or product sales? These are there for you! You can also see product sales by user to ensure your team is selling the appropriate materials and get credit accordingly.
View Demo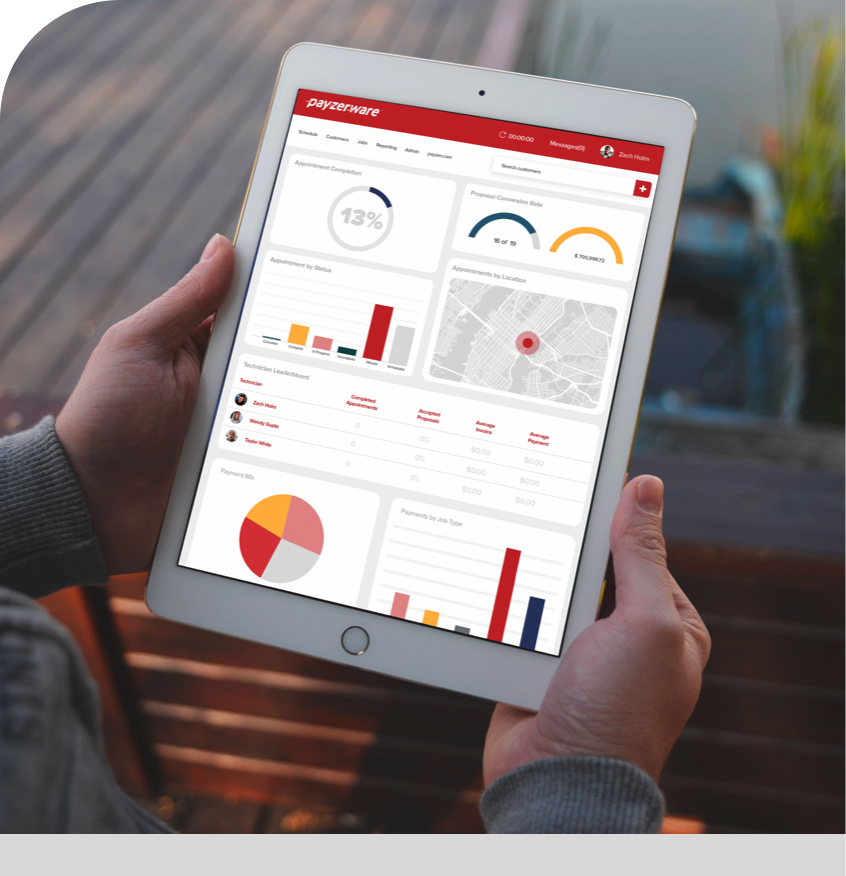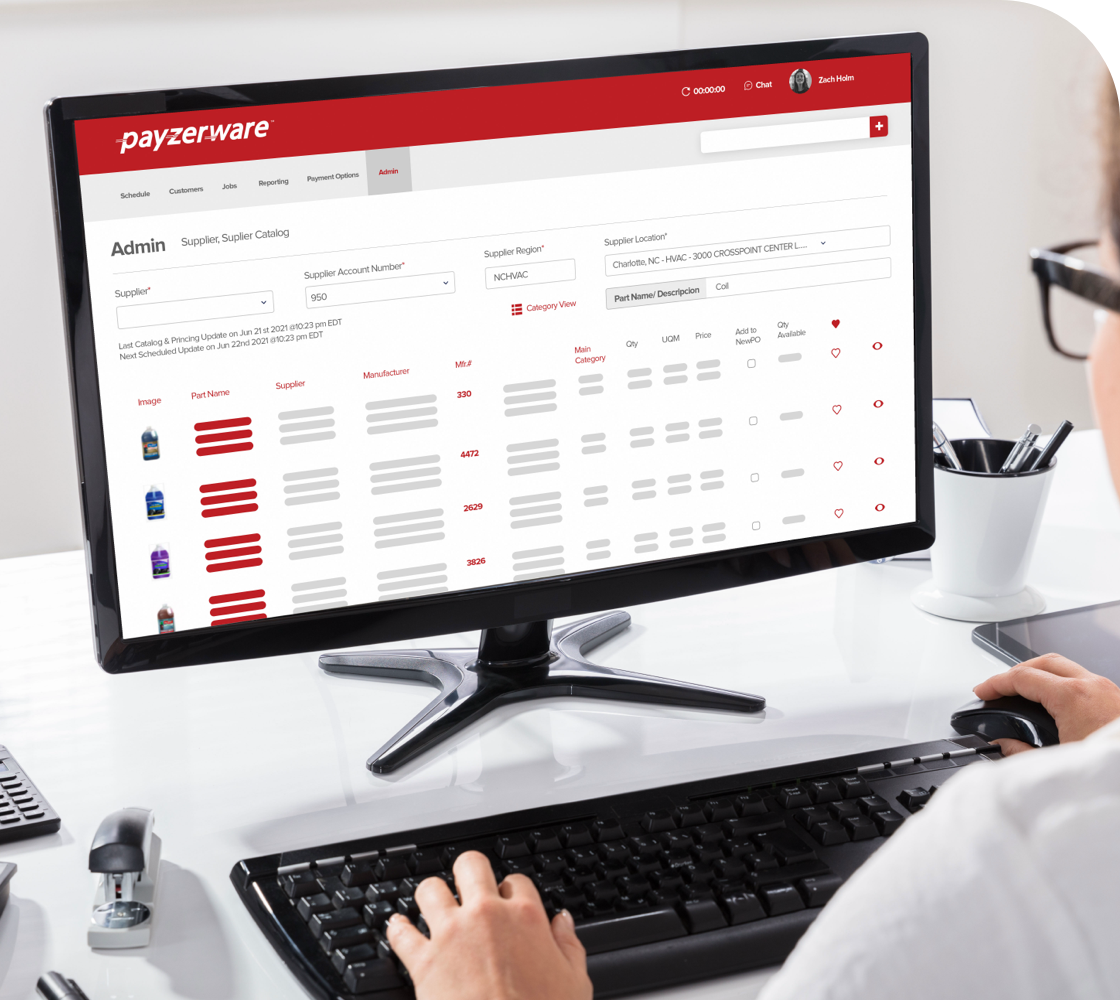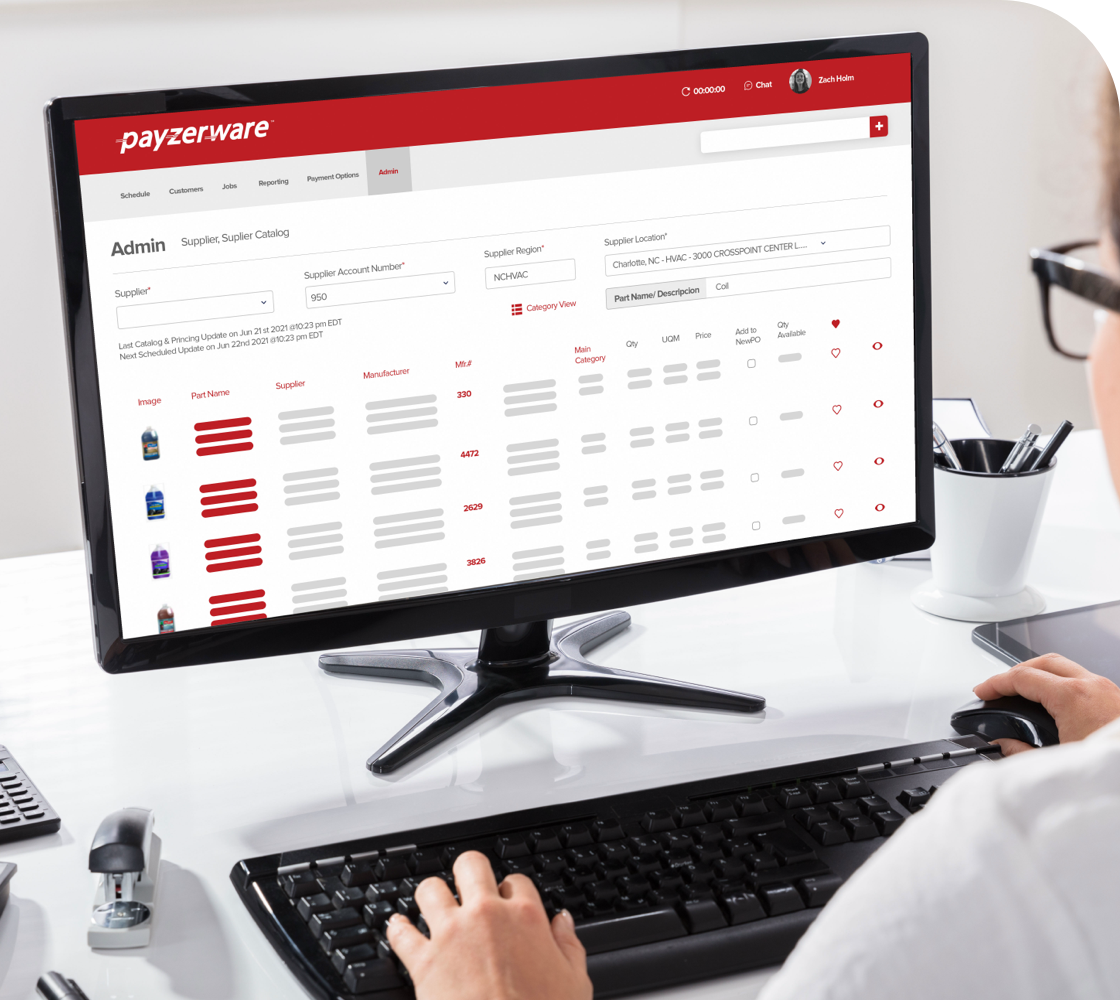 Payzerware partners with all major manufacturers and suppliers in the HVAC & Plumbing industries.
Order from Suppliers With Ease
Make ordering simple with Payzerware's supplier integration. Convert an invoice to a purchase order in seconds and submit it electronically to your supplier for delivery or pickup.
Name and save frequent orders, such as Truck Stock, as favorites to speed things up even more.
Track orders placed through the integrated supplier catalogs and eliminate chasing down paper order forms. Spend more time on the business, not in it.
View Demo
20+ Applications in One Platform
Payzerware enables complete job automation with all of our applications working under one place
Simplify Operations
Drag + Drop Schedule
Dispatching + Navigation
Customer Account Management
Customer Appointment Notification
Equipment Tracking
Employee time tracking
Multi-Business Reports
Sell More
Proposals
Proposals Comparisons
Supplier Catalogs / Electronic PO
Purchase Orders
Maintenance Plans
Job Costing
Multi-lender Financing
Pricebook
Flat Rate (Profit Rhino) (add-on)
Improve Collections
Invoicing
Debit + Credit Card Processing
Bluetooth Card Reader
Payments Dashboard
QuickBooks Sync
ACH
Recurring Payments
Mobile Check Imaging
Payzercare makes it easy to get started
Best-in class customer support and training

Available via chat, phone or email M-F, 8am-7pm ET
In-app resource center to help you get started even quicker

No onboarding fee and unlimited support
What Our Customers Say About Payzerware
"Payzerware has streamlined our process a ton. It integrates everything. Now when our guys are in the field taking payment, they don't have to bring checks back to the office.
Payzerware is a worthy investment for your company."
Randy Bell, Owner
Artex Services, Inc (TX)
"I cannot say enough about Payzerware and the value it brings to our company. The program is easy to use and also keeps track of the smallest details.
Payzerware keeps everyone on the same page and improves communication across the business."
Above & Beyond Services (DE)
"As a business owner, Payzerware is much easier to navigate and has provided us with a greater sense of control and visibility. We have no desire to ever go back to Service Titan."
Jennifer Lowry
Air Control LLC (VA)
"In Payzerware, everything you need to see on a customer is
right in front of you - history, equipment, appointments, invoices.
Having this timeline at our fingertips speeds up the process and
makes it easier for the guys in the field. Now in a few clicks my
techs can see everything they need to see on the job."
Vaughn Guidry, Owner
Guidry's Air Conditioning & Refrigeration Service (LA)
Previous
Next