If you're an electrician, getting paid for your services in a timely manner is crucial for the success of your business. However, the invoicing process can be time-consuming and complicated. Fortunately, there are invoicing solutions available that can help streamline the process and ensure that you get paid faster. In this blog post, we'll discuss Payzerware's electrician billing software and how it can help you improve your invoicing process.
---
Grow Your Business By Partnering With Payzer
---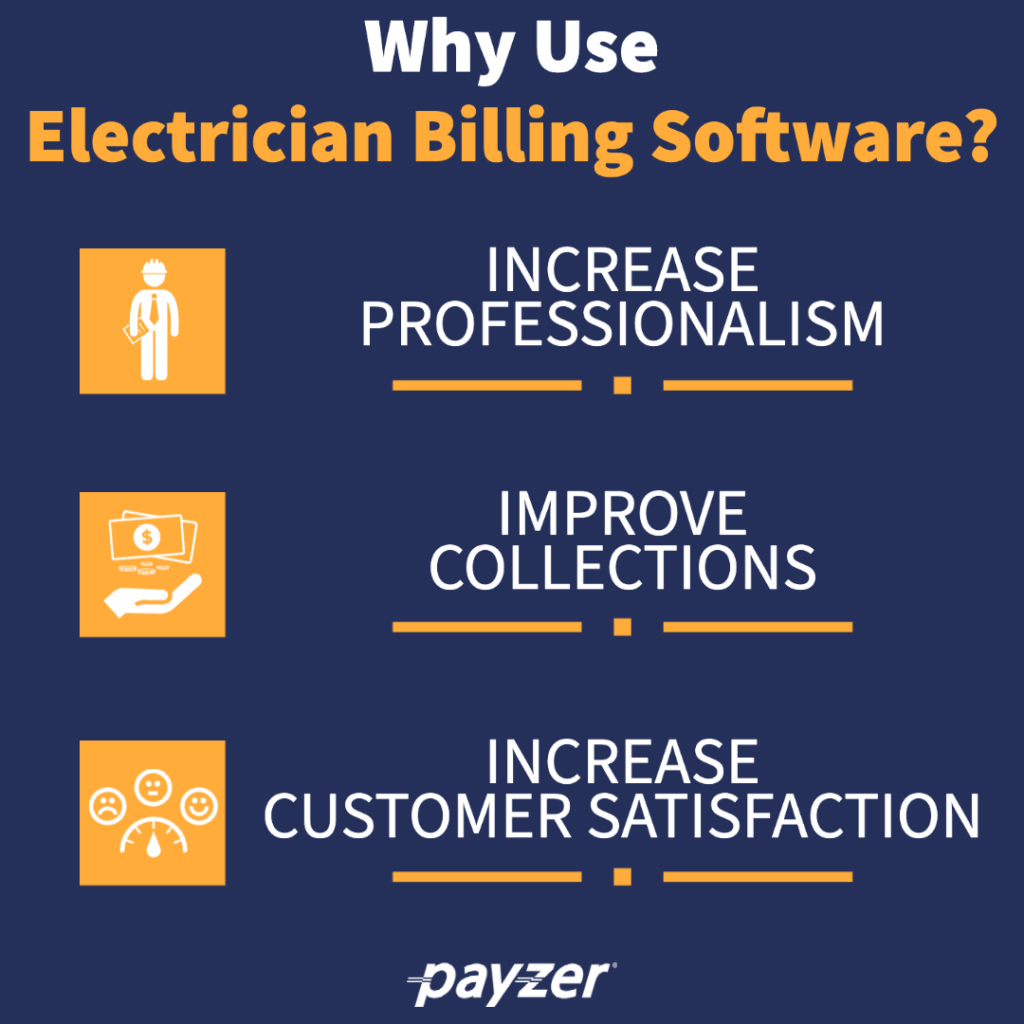 Why Use Billing Software?
Using billing software for your electrical business can help simplify the invoicing process and make it easier for you to get paid faster. Here are some of the benefits of using electrician billing software:
Increase Professionalism
Billing software allows you to create professional invoices quickly and easily, ensuring that your customers receive accurate and detailed invoices for your services. With just a few clicks, convert a proposal to an invoice, email or text it to the customer, and give them multiple ways to pay.
Improve Collections
With billing software, you can accept a variety of payment methods, including credit cards and online payments, which makes it easier for your customers to pay you.
You can set payment due dates in your billing software to ensure that your customers pay on time and can also include payment instructions in your invoices, making it easier for your customers to understand how to pay you, and give them multiple ways to pay. With Payzerware, 30% of invoices are paid on day one.

Components of an Electrician Invoice
Here are the components of a typical invoice for electrical businesses:
Contact Information: This includes your company name, address, phone number, and email address. Make sure that this information is easy to find and read on the invoice.
Electrical Contractor Invoice: The invoice should clearly state that it is an electrical contractor invoice.
Business Invoicing: The invoice should clearly state that it is a business invoice, not a personal one.

Electrical Work Invoice Template: Use an electrical work invoice template to ensure that all the essential components are included in your invoice.
Service Invoice: The invoice should clearly state that it is a service invoice, not a product invoice.
Payment Terms: The invoice should clearly state the payment terms, including the payment due date and any late payment fees.
Total Amount: The invoice should clearly state the total amount due, including any taxes or fees.
Payment Methods: The invoice should list the payment methods that you accept.
Amount Due: The invoice should clearly state the amount due and any remaining balance.
Payzerware's Electrician Billing Software
Payzerware is a software designed specifically for electricians. It offers a range of features that can help you streamline your business, improve collections and sell more. With Payzerware's invoicing process, you will be able to send a professional invoice to your customers and get paid faster.
Payzerware stands out as the premier invoicing software for electricians due to its exceptional features and unmatched benefits.
User-Friendly Invoicing Interface
With a user-friendly interface and seamless navigation, even those with limited technical expertise can easily utilize Payzerware. Its intuitive design allows electricians to generate professional invoices efficiently and manage their billing process effortlessly.
One key advantage of Payzerware is its customizable invoice templates, enabling electricians to tailor their invoices to reflect their brand identity and professionalism. This personalization not only adds a touch of professionalism but also enhances the overall customer experience.
Another standout feature of Payzerware is its seamless integration with popular payment gateways, allowing electricians to accept electronic payments hassle-free. By eliminating manual payment handling, this feature ensures faster and more secure transactions.
Robust Reporting
Payzerware also offers robust reporting and analytics capabilities, providing valuable insights into the electrician's business performance. From tracking outstanding invoices to monitoring cash flow, these features empower electricians to make informed decisions and optimize their financial strategies. Efficient customer management tools are also a highlight of Payzerware, enabling electricians to store client information, track interactions, and manage recurring invoices with ease. This streamlined approach enhances customer satisfaction and fosters long-term relationships.
Partner With Payzerware
Using Payzerware's electrician billing software can help simplify your invoicing process and ensure you get paid for your work. Easily convert your proposals and work orders into invoices, email or text them to your customers, and offer multiple ways to pay. Payzerware also allows you to accept card, check, and financing options from the same platform. Along with 20+ other features, Payzerware helps contractors across the country improve collections, streamline operations, and sell more!