HVAC GPS, or vehicle tracking is crucial for many businesses, including HVAC companies and field service businesses. Keeping track of your team is key to maintaining and managing a successful HVAC business. Fortunately, with the advent of modern technology, HVAC GPS tracking has become simpler and more efficient than ever before. Below, we will explore the benefits of HVAC GPS & vehicle tracking and how you can simplify operations.
---
Grow Your Business By Partnering With Payzer
---
Benefits of HVAC GPS Tracking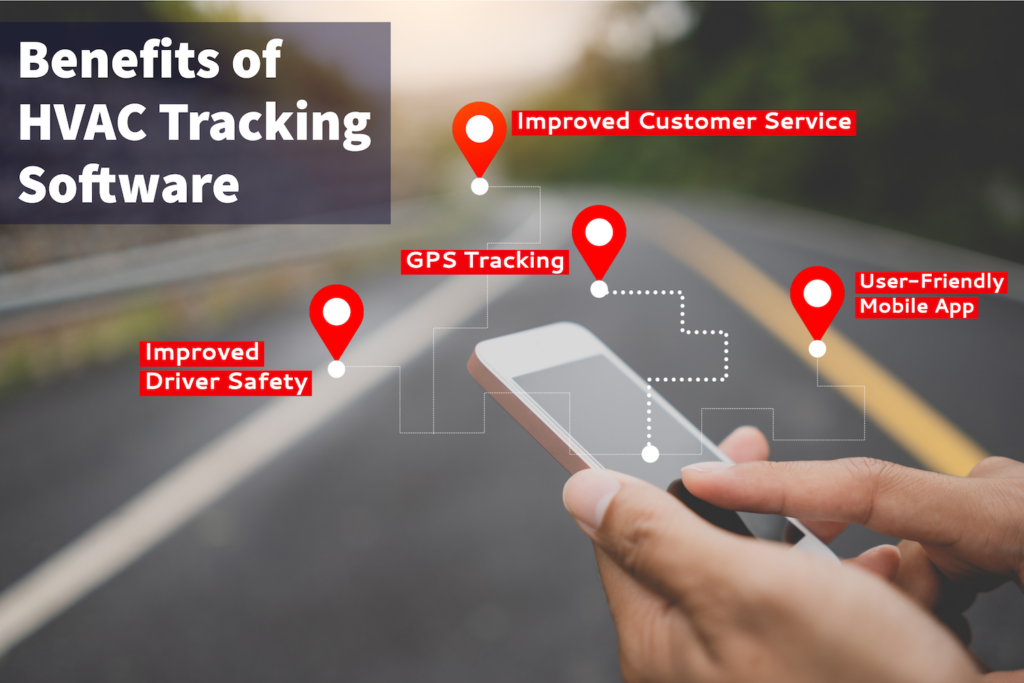 Real-Time Location Monitoring
One of the most significant benefits of GPS tracking for HVAC equipment is real-time location monitoring. With GPS tracking, you can always know where your team is located, making it easier to dispatch the nearest technician to service the next job. This feature is especially useful for field service companies that need to quickly locate and service equipment in different locations.
Improved Driver Safety
Take advantage of information—such as speeding, hard braking, cell phone distractions, and service warnings—to keep both drivers and vehicles performing at their best. GPS tracking software helps contractors save thousands every year in preventative maintenance.
Capture Diagnostics
With built-in diagnostics, valuable information is captured every time your fleet is dispatched. Use it to maximize efficiency, reduce operating costs, and reward top drivers.
Mobile App
A mobile app can be an excellent addition to your HVAC equipment tracking system, enabling you to monitor your equipment from anywhere. With a mobile app, you can receive real-time updates on equipment location, status, and maintenance schedules. Additionally, a mobile app can make it easier for your technicians to access proposals, purchase orders, update equipment status, streamline inventory management, and communicate with other team members.
Management Software
HVAC equipment tracking management software is a must-have for any HVAC business that wants to simplify operations. A good management software solution will provide real-time information on equipment usage, maintenance schedules, and service needs. Additionally, the right software can help you streamline your business operations, improve customer service, and reduce downtime.
Customer Service
Ultimately, any HVAC business aims to provide the best possible service to its customers. HVAC vehicle tracking can help you achieve this goal by ensuring that your team is on time and getting to jobs quickly and efficiently. By using tracking software, you can also optimize your equipment and fleet management, reduce downtime, and ensure that you are always prepared to respond to any maintenance or repair needs promptly.
HVAC tracking is an essential part of running a successful HVAC business. With GPS tracking, vehicle tracking software, and complete field service management software, you can simplify operations and improve customer service.
Payzerware can help! With 20+ applications in one easy-to-use platform, Payzerware has all of the tools you need to run your HVAC business. Let Payzerware run your business so you can enjoy other things.
---
Grow Your Business By Partnering With Payzer
---
Frequently Asked Questions:
What should I look for in HVAC tracking software?
When looking for HVAC tracking software, you should look for features such as real-time location monitoring, work order management, mobile app integration, and equipment tracking. Additionally, it is essential to choose software that is easy to use and customizable to your specific business needs.
What are the benefits of HVAC tracking software?
HVAC tracking software offers many benefits, including real-time location monitoring, work order management, equipment tracking, mobile app integration, and improved customer service. By optimizing your equipment management, you can reduce downtime, improve productivity, and increase profits.